Here You can get information about the Umrah Package From Islamabad. You can get all the related information about the Umrah package from Islamabad in October. 2023. Our company provides you with perfect information related to the Umrah package from Islamabad.
Umrah Package From Islamabad
To provide a satisfying and stress-free Umrah Journey, our company is the best place for you. If you are aiming to do Umrah from Islamabad and looking for an Umrah Package from Islamabad with a ticket, we have a wide variety of Umrah packages for you.
However, we are also offering our services in other cities of Pakistan. We honor ourselves in giving unique services to you. Our agency guarantees no other agency can hit us on price. We serve our customers with low-price Umrah packages, but we never compromise on the excellence of qualities.
Umrah Packages from Islamabad with Ticket 2023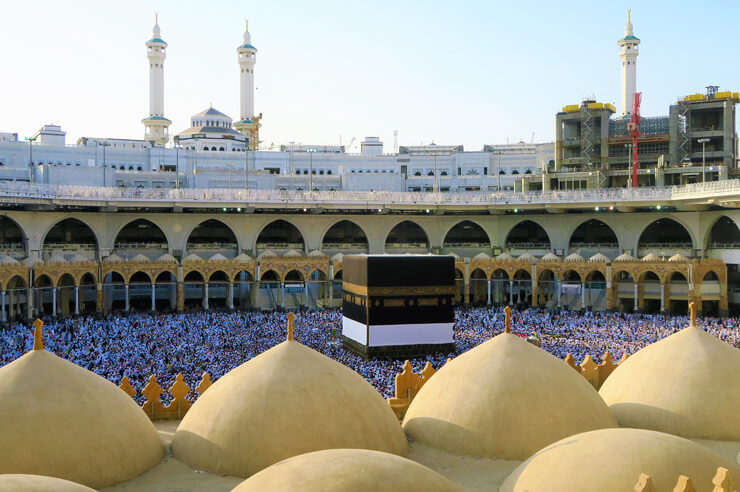 We have arranged our packages in such a way that saves your time. We also understand the usefulness of an outstanding travel deal always ensures the customer to the best services to create a remarkable travel experience.
However, arranging a trip can be highly discouraging, especially when one doesn't know where to make a start. But we consider your needs and provide you a package that goes with your concerns. The vision of our company is to turn into the top-rated services provider in the travel business in Pakistan. We are continually working to give our level best services to our valuable clients.
What do we offer in our Umrah Package from Islamabad?
We offer an extensive range of services to our clients. We endeavor to provide our clients with top-notch services and excellent amenities that pilgrim desire during their stay. The services we offer in our packages include;
Umrah Visa
Flight Reservation
Meet and Assist at Jeddah
Hotel Accommodation
Comfortable Transport
Ziarat Tours
We keep an excellent variety of Umrah packages, forever keeping the financial class in mind so that every Muslim brother and sister can enjoy these high-quality amenities. You can easily become overwhelmed by our extensive variety of Umrah packages. It will be much better if you describe your demands to our agent at first. So that our agent can customize an Umrah package accordingly and can present it to you.
Our Umrah operators will provide you Umrah visa with your flight details as soon as possible after the time you have submitted your documents. So if you want to visit the Holy place immediately, then contact us and book your visa now. We are here to provide with our level best services by understanding your concerns. We make sure that we will provide our clients with all details regarding umrah travel so if he wants to check he can.
Our agency has a zealous team in management to design an Umrah Journey for you. We should make the traveler comfortable whose time and tolerance rely on our performance, expertise, and low-cost handling.
It will be our gratification to facilitate you in every way because your happiness sets the standards for all our endeavors. As we acknowledge all the facts regarding an Umrah Journey so by entrusting us to facilitate you, you can rid of all the related worries and even can save yours some extra money.
Umrah Packages from Islamabad
Importance Of Umrah In The Life Of A Muslim:
Islamic Pious journey -Umrah- is an act to worship Allah and is a Sunnah deed. It is also termed as "minor pilgrimage". Umrah is the best way to show your respect and love towards each other because there we remove our all the signs of riches, pride and social standings. The Ihram, or plain and pure white dress, is worn by pilgrims. These religious activities renew the sense of mission in life and purify our souls.
What Are The Purposes Of Umrah?
This journey offers a great opportunity to erase past misdeeds and start a new chapter with pure hearts. The following are some of the purposes of Umrah:
It Boost Sense Of Tranquility
Awarded with Worldly Benefits
It Shows Muslims Unity
Expiation Of Sins
To Get Rid Of Poverty
Umrah Packages from Islamabad:
15 Days Umrah Package:
HMF Travels offers a 15 days Full Umrah Package from Islamabad. The Tour will comprise of 15 days and 14 nights. 7 nights in Makkah and 7 nights in Madinah.
The Package will cost:
235,000 for double sharing
215,000 for triple sharing
200,000 for quad sharing
Departure City:
Package Includes:
Connected flight (ISB – MED – JED – ISB)
Hotel
Accommodation
Umrah Visa
Transport
Insurance
PCR Test in KSA
Makkah hotel: Fajr Al Badi 4
Makkah hotel distance: 600 meters
Madinah hotel: Haya Al Waha
Madinah hotel distance: 200 meters
Package Exclusion:
Meals
PCR Test in PAK
Ziyarat
Required Documents
Original Passport with at least two blank pages together which is valid for eight months
Original B-form for Children or CNIC
Passport-size photographs with light blue backgrounds and women wearing headscarves
Health Certificate
15 Days VIP Umrah Package from Islamabad
HMF Travels are once again offering a VIP 4-star package of 15 days from Islamabad. This trip will consist of 7 Nights in Makkah and 7 Nights in Madinah.
The total cost will be:
1,18,000 per person.
Departure City
Package Inclusions:
Direct Flight (ISB – JED – ISB)
Meet and assist at Jeddah Airport
Visa Assistance
Breakfast
Hotel
Accommodation
Transportation
Makkah hotel: Al Massa Hotel or similar hotel
Madinah hotel: Gloria Al Madinah – Al Fayroz Al Massi or similar hotel
Package Exclusions:
Lunch, Dinner
Medical Insurance
Ziyarat
PCR Tests
Documents Required for Umrah Visa:
Original Passport with two blank pages which is valid for at least 6 months
Original NIC or birth certificate(for children)
4 Passport size photos
Meningitis and polio vaccination records
Dual nationals of Pakistan must get a numerous entry visa with NICOP in order to travel to Pakistan for pilgrimage