What could be better than starting your freshly married life with the plan to visit the holy places of Makkah and Madina? Plan a trip to give it as a surprise gift to your better half. You want to go to the home of Allah SWT to thank Him.
Also, you want to get for immense blessings, bounties, and boost your spirituality. Then contact us now we are offering the best and reliable Umrah by our 15-Days Couple Umrah Package from Pakistan.
We have designed an exceptional young couple package with unique services and multiple sights-seeing opportunities. Our Umrah package is ideal for a newlywed couple, as we are offering a carefree and luxurious trip to Makkah and Madina. We assure you, you can make your Umrah journey memorable for lifelong with us.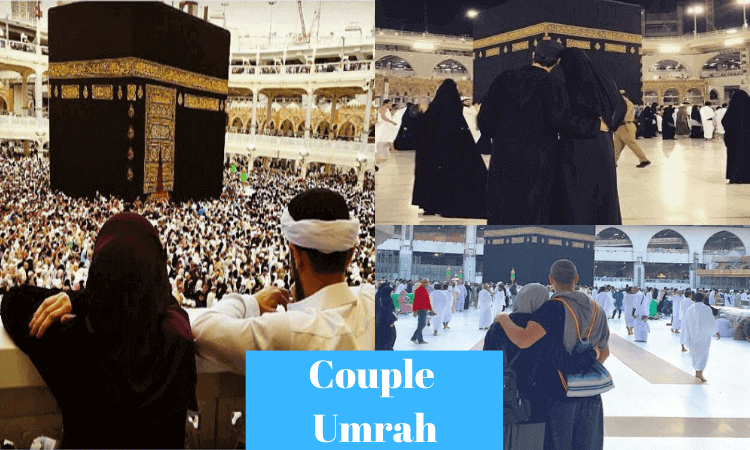 15 Days Couple Umrah Package from Pakistan
Our Umrah expert agent tries to serve our beautiful couple, whose desire is to see the Kaaba in his life. We are here with many high-quality, still cheap hotels and airlines to fulfill your needs. By keeping all your Umrah related needs in our minds, our 15 days couple Umrah package is available at the best and cheapest price.
We have hotels near to Haramain and private transport facilities and VIP services for you and your partner. You can customize the services according to your budget. Therefore, get in touch with us today for a thorough Umrah package detail along with a wide variety of opportunities for couples. We will plan it like a family member with you. So, there is no need to hesitate to discuss anything regarding the Umrah travel deal.
Book Your 15 Days Couple Package with us
If you are thinking about why to book with us? Then we have the answer to all of your questions. You can choose us for peace of mind and quality that you need. Our experienced and well mannered Umrah travel agents have arranged genuine and affordable Umrah packages for you. We understand customer value and one more thing; we are not running just for money like others. Our Umrah experts always try our best to make our customers satisfied. Because their satisfaction means a lot to us.
Therefore, in our 15 days couple umrah package, we will arrange an Umrah visa, flight reservation, accommodation in Makkah and Madina, mouth watery meal, and private transport to visit the holy cities.
You can easily customize your accommodation according to your needs. However, we also have 3 Star, 4 Star, and 5 Star hotel options for you. And we will also arrange your accommodation close to Haram to save your traveling time.
Our good hotel settlements, transport services with topnotch amenities, and all the ground handling make sure that we always understand for your spiritual obligations. You will find us honest in our work. We are always doing our backbreaking to endorse the Umrah package that best corresponds to your demands and giving appropriate details of all the services provided by us.
Reserve your 15 days couple umrah package now make an unforgettable Umrah journey by traveling with us.